FANtastic Marketing: AMA March Luncheon + Workshop
March 8 @ 11:00 am

-

2:45 pm

$39.00 - $120.00
Event Navigation
FANtastic Marketing: AMA March Luncheon + Workshop
Learn the secrets of building loyal customers that do the promotion for you at this exclusive luncheon and half-day workshop with national high octane sales and marketing expert, Meredith Oliver.
Doors Open & Registration
11:00-11:30 AM
KEYNOTE: Build Your Brand & Grow Your Business By Creating Fans BEFORE They Buy
11:30-12:30 PM
WORKSHOP: FANtastic Marketing Deep Dive 
12:45-2:45 PM
---
Luncheon: Build Your Brand & Grow Your Business By Creating Fans BEFORE They Buy
Would you like to build a loyal fan base that does the selling and marketing for you? Looking to increase engagement and referrals from your social media presence? Interested in learning the new rules of sales and marketing in the digital age? Good news, this keynote by Meredith Oliver will do just that and more! Based on Meredith's book, FANtastic Marketing, you will learn how to find, engage, and excite your fans resulting in more profit straight to the bottom line. Stop boring your fans with canned marketing and learn how to transform your brand with FANtastic Marketing – marketing that is about your fans, for your fans, and features your fans. Learn how to create fans BEFORE they buy and watch the traffic, leads, and sales to your business explode!
Workshop: FANtastic Marketing Deep Dive
Learn how to apply the FANtastic Marketing strategies covered during the luncheon in this deep dive workshop. Ask questions and brainstorm with fellow participants. Workshop facilitator, Meredith Oliver, will do "LIVE" reviews of participants' websites and/or social media pages and offer tips on how they could make their online presence even more FANtastic.* Known for her no-geek-speak presentation style, Meredith will deconstruct how to make your online presence more engaging and result in more leads and sales by utilizing the principles of FANtastic Marketing.
*First come, first serve basis, as time allows. Participants are not required or obligated to do a "LIVE" review. If you would like to have your website or social media page reviewed, please arrive early and sign-up.

---
About Meredith Oliver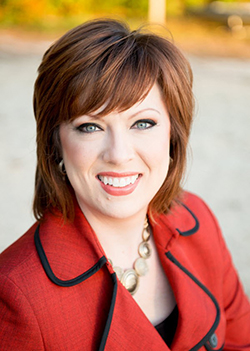 Meredith Oliver is a sales and marketing keynote speaker, author, and strategist. She helps businesses drive more traffic, leads, and sales with digital marketing and sales solutions.
She is the founder and creative director of Meredith Communications, a digital marketing agency in Raleigh, NC. Meredith Communications is in its fifteenth year delivering digital marketing solutions such as website design, search engine optimization, and social media marketing.
Meredith holds a Masters Degree in Communication Technology from Rollins College and is the author of three books, (1) Click Power: The Proven System Home Builders Use to Drive More Traffic, Leads and Sales, (2) FANtastic Marketing: Leverage Your Fan Factor, Build a Blockbuster Brand, Score New Customers, and Wipe Out the Competition and (3) FANtastic Selling: The 10 Undeniable Traits of Rock-Star, Top-Producing, Quota-Busting Salespeople.
She has been speaking professionally for 15 years and holds the prestigious CSP (Certified Speaking Professional®) designation, the highest designation conferred by the National Speakers Association. She has spoken to audiences from 10 to 2,000 at prominent industry events such as the Volkswagen National After Sales Conference, the National Association of Home Builders International Builders Show and the National Automobile Dealers Annual Conference and Expo.
---
AMA Membership
Enjoy exclusive access and members-only pricing at our signature events by becoming a member of the American Marketing Association! You're just one step away from connecting and engaging with the largest community of marketing professionals in Alaska and North America.